Simple and extensible data fabric platform
for data centralization
Strategic business decision-making needs data! Enterprise data integration and data transformation solutions are a little complicated to deploy. Large organizations with distributed data silos and diverse sources of truth for data find it even more challenging.
A business data integration strategy must ensure enterprise-grade security and data governance while simplifying and scaling the enterprise's data integration process - A reliable, scalable, and robust data fabric solution is your answer!
Hear how Lyftrondata helped accelerate the data

journey of Devis
98%
New applications
onboarded

Since deploying Lyftrondata into a 24/7 global-based cloud production environment in September 2020, we have been able to quickly migrate data from one cloud-based data source to multiple cloud-based data targets securely and without the need to write or manage any code. To date, we are charmed with Lyftrondata's performance, innovation and agility as a critical part of their current production environment's pipeline and tool stack.


Benefits of
Lyftrondata enterprise
Lyftrondata the power of
the cloud
Lyftrondata enables enterprises to be data-driven with a columnar automated pipeline that unifies all your data into a single format and loads it to a target data warehouse for the use of analytics and BI tools.
Improve time to value
With drag-and-drop capabilities, ETL developers are able to quickly and easily create complex ETL jobs, eliminating the need for manual hand coding.
Onboard in hours, not months
With an intuitive and easy to learn tool, developers and teams are able to get up and running with Lyftrondata in days instead of weeks.
Single source of truth
Maintain a centralized view of all your enterprise data in one place and perform analysis and visualizations knowing that you're accessing up-to-date data that you trust.
Greater scalability
Scale your enterprise data integration and transformation efforts as your business grows. Cloud data warehouses are designed to autoscale as processing loads increase.
Enterprise-grade security
Your data remains as secure as your enterprise-grade cloud platform since Matillion is deployed within.
Scalable job creation
With our multiple connection feature, multiple people can be working on a job within your your cloud data environment at once – enabling up to 50% faster processing speeds.
Build a data-driven
enterprise
Lyftrondata can simplify complex IT and data management environments with a full-featured enterprise data integration and transformation solution that supports enterprise data management needs such as:
Data lineage
High-availability clustered environments
Audit logs
Auto documentation generation
GIT integration
Support for development, test, and production environments
and more...
Built with a highly intuitive and easy to use interface, Lyftrondata ETL lets developers easily create complex ETL jobs. Deployed as a machine image that sits within your enterprise's virtual environment, Lyftrondata's enterprise data integration and transformation solution not only supports enterprise security environments, it also makes it easier for you to customize your deployment to your unique needs and your cloud data environment.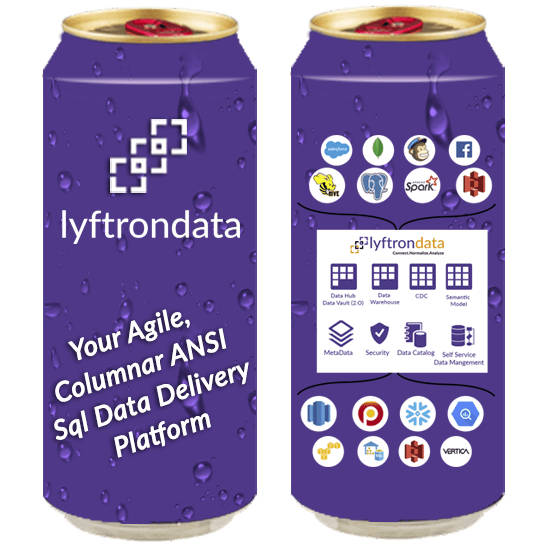 Satisfy your thirst for better data outcomes.
We're here to listen. Tell us about your requirements. What challenges are you trying to solve?